HABITAT- HARBOUR TRAFFIC OPTIMIZATION SYSTEM
HABITAT  (PON01_01936) is a project funded by the Italian Ministry of University and Research under the National Operative Program (Programma Operativo Nazionale, PON).
The aim of the project is research, prototype development, testing and validation of an integrated system, mainly on the port side, in order to control and support maritime navigation in the last mile of type "all vessels, all weather, all-day" and able to: 
provide real-time and accurately the last mile marine traffic situation, not only with simple plots, but with advanced graphics display dynamic plant ship / boat itself for all types of ships and boats ("all vessel"), including even those not equipped with sensors / systems cooperating (eg. AIS or GNSS) for all weather situations ( "all weather") and 24/24 hours (all day). 

provide all ships and boats in the last mile marine of a systems able to support real-time navigation in order to improve precision, speed and safety operation and docking manoeuvres. 

interoperate with public administration systems (existing and / or developing) for example the VTS / VTMS and connected system PMIS (Coast Guard). 

provide an advanced simulation system for training of pilots and all those involved in port traffic control.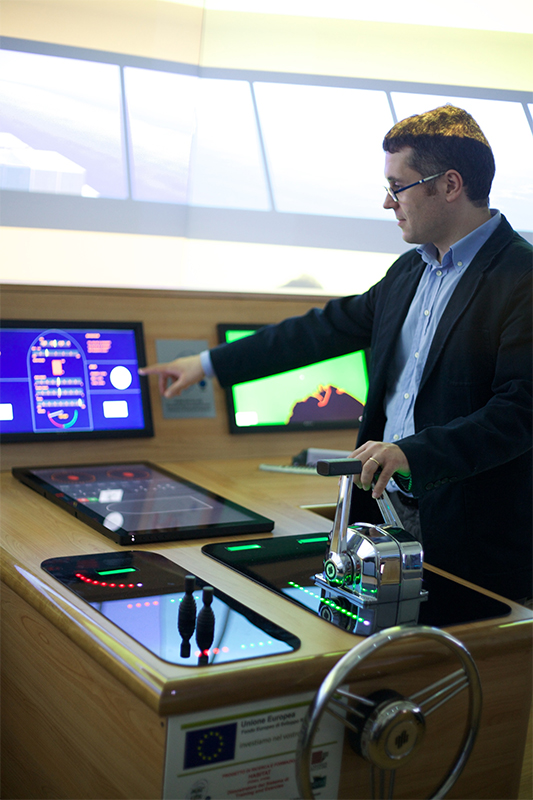 The HABITAT Training and Exercise System
Within the framework of the HABITAT project, MSC-LES is responsible of the WP 10 with the aim of developing an innovative and advanced Training and Exercise Systems for Ships Pilots, Tugboat Pilots and Port Traffic Controllers in the last mile of navigation. Such Training Systems relies on an interoperable simulation based approach and it is made up of a federation of simulators that have been integrated according to the IEEE 1516 High Level Architecture Standard (HLA). In particular, the HABITAT Training and Exercise System allows both single operator training and cooperative training. Indeed the federation includes three different simulators (the ship simulator, the tugboat simulator and the control tower simulator) that can run stand-alone for single operator training or federated for cooperative training. 
The HABITAT Training and Exercise System provides its users with multiple options in terms of training scenarios definition:
different vessels (i.e. containership, tanker, bulk)

different marine ports (i.e. Port of Salerno, Port of Gioia Tauro, Port of Livorno)

tugboat service for supporting monouverings in the port area

possibilities to change wheater and marine conditions (including wind, rain, fog, sea state)

multiple training missions (i.e. ship manouvering in the port area with or without tugboat, morring operations, interactions with tugboat, exiting/entering the port area, etc.).
End Users and Scientific Advisors
NATO CMRE – Centre for Maritime Research and Experimentation
INSEAN  
AVVIMAR 
Consorzio Oltremare
Assonave 
Confitarma 
Ucina
Assiterminal 
Assoporti
Assologistica