TRAIN

ing 
in marine

 

PORTS

 

by using

 

S

imulation

 
---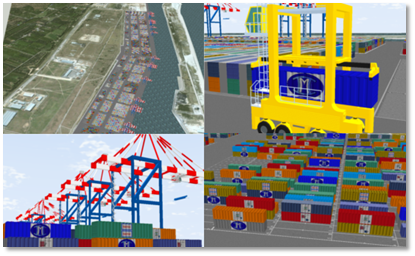 The project propose a virtual 3D Simulator for training for marine workers. The training system can be used for evaluating and improving trainees' skills in using different working equipment :
The Straddle Carrier Simulator recreates the operations devoted to move containers in the yard area and from/to quay cranes. The Straddle Carrier is equipped with a virtual cockpit containing all the straddle carrier commands.

The Quay Crane Simulator recreates the operations devoted to move containers from the ships to the berth and vice-versa. Used to select training candidates, train new operators, evaluate and improve operators' skills. The Quay Crane is equipped with telescoping jib and a variety of loads and hook blocks. 

The Forklift Simulator can be used to investigate supporting security procedures within container terminal.

The Truck Simulator is designed to provide an excellent training system for heavy vehicle operators and allows the trainee to experience and get familiar with engine dynamics, transmission dynamics, brake dynamics and steering dynamics.
The marine port considered in this research project is the Gioia Tauro container terminal, located in South Italy, one of the bigger container terminals in Italy and the biggest transshipment  container terminal in the Mediterranean area. The main port operations are implemented within the dynamic process module by using the HLA standard (the simulation engine and allows all the interactions in the 3D environment).